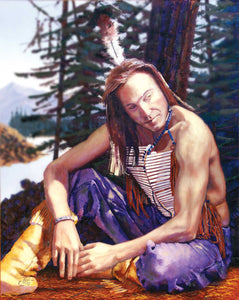 SOLD! At the Artist's Studio Gallery.
One of the most endeared story-tellers in the region, Victor Conrad Greywolf easily stirred the imagination of children and adults of any age. He developed his talent to tantalize the ear when outdoors, where he bent his own ear to the wind whistling in pines, the water lapping on banks, and the clouds thundering with rain.
This painting juried into The Portrait, an exhibition in the destination town of Bend, Oregon. Soon after, his sister from Alaska purchased the piece to commemorate her beloved brother - Victor Conrad Greywolf.
One of a series of award-winning oil paintings on the human form by Pat Cross.