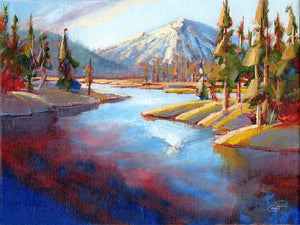 Commissioned by the World-Class Pacific Crest Sports Festival
In this original oil painting titled A Glacial Crown the majestic mountain peak of Mt Bachelor raises his snowy brow above the glacial lake, a focal point along the trails in the Cascade Mountain Range.
This painting served as the artwork etched into the medallions awarded to the top athletes, many who traveled from all parts of the globe to participate in the outdoor competitions. 
The painting medallions were published in over 10,000 program guides, banners, totes and brochures, and also reached several television networks throughout the Pacific Northwest.