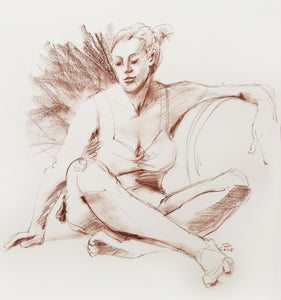 Now Showing! In the Pat Cross Art Exhibition at Carnegie Hall, Lewisburg. 
In the Old Stone Room, from November 1 through December 31, 2023 with 25% of the sales proceeds benefiting the Educational Programs.
In this drawing from a live model, a woman folds her legs to rest and ground herself as she seeks counsel from the quieting wisdom deep within her well.
In this drawing Inner Counsel, the artist used a soft umber colored conte' crayon on acid-free Strathmore paper for lasting impressions. The 18" x 18" drawing mounts in a 20" tall by 20" wide wood frame wired and ready to hang in your home or office.
One of a series of award-winning drawings of the human form by Pat Cross.