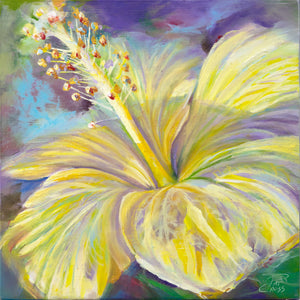 SOLD! at the Eggplant Boutique!
Visit the Eggplant boutique at 1011A Bridge Road, Charleston, WV 25314. Or call Lisa Payne and the friendly staff at (304) 346-3525.
This ornamental flower is one of the seven native Hawaiian hibiscus blooms representing the state flower of Hawaii. The Yellow Hibiscus is a rare flower and is federally listed as an endangered plant. So, the oil painting Yellow Hibiscus is a tribute to this beautiful bloom.

Yellow Hibiscus is a petite 6" x 6" painting resting on an espresso wood easel that displays well on any mantel, shelf, counter, alcove or desk. These petite florals make for wonderful gifts for those who either garden, wish they did, or even prefer to bring the joy of garden blooms indoors for every season. Collect more than one to create your own indoor garden that lasts for years.

One of a series of award-winning oil paintings on garden blooms by Pat Cross.