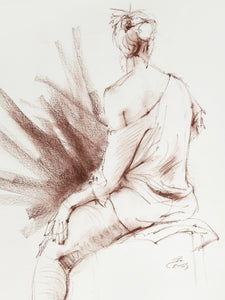 SOLD! At the David L. Dickirson Fine art Gallery in Tamarack Marketplace!
A woman facing disruptive change pauses to muse a future both enticing and intimidating.
In this drawing, the artist used a soft cocoa colored conte' crayon on acid-free Strathmore paper for lasting impressions. The drawing mounts in a 18" tall by 14" wide wood frame wired and ready to hang in your home or office.
One of a series of award-winning drawings of the human form by Pat Cross.