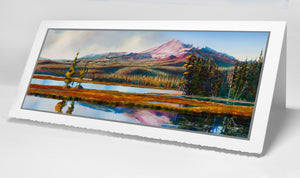 One of the most recognizable of all the summits of the Oregon Cascades, Broken Top rises high above Sparks Lake, catching the last of evening light in late summer.
This panoramic notecard, perfect for all occasions, features a deckle-edge for added distinction and comes with a letter size envelope for standard first class mail. Protected in a clear sleeve, these notecards also make welcome gifts for friends, family, peers and clients.
Made in the USA in the art studio of Pat Cross.