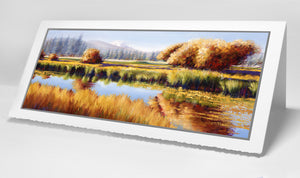 Jack Frost takes the landscape by surprise, flushing the foliage with brilliant hues. The evening sun accentuates these colors even more, offering the Cascade Range an inspiring view of the autumn river willows.
This panoramic notecard, Autumn River Willows, perfect for all occasions, features a deckle-edge for added distinction and comes with a letter size envelope for standard first class mail. Protected in a clear sleeve, these notecards also make welcome gifts for friends, family, peers and clients.
Made in the USA in the art studio of Pat Cross.